Garden Grove Unified School District (GGUSD) this week was named a California Honor Roll District and 40 of its schools were named 2017-2018 California Honor Rolls Schools, earning recognition for high achievement in student success, reduction in ach…
Principal's Message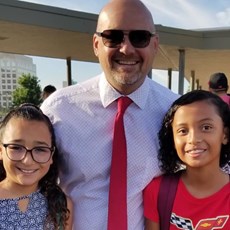 Dear Parkview Families,
It is truly my pleasure to be returning as the principal at Parkview Elementary School.    This year, we all get to come back to a beautiful new campus!  This summer saw a major modernization effort that will allow for all rooms to have Air Conditioning (yeah!), new windows, paint, security system and upgraded wireless internet.  We are all grateful to the tax payers from Garden Grove who supported the bond measure that allowed this work to happen. I am very excited to see all of our students and families upon returning from summer break and watch our kids work hard and grow through new experiences and learning.  I know all teachers are eager to get to work with their new classes and prepare them to be successful during this year and beyond.  
Personally, I have been married for 17 years to my wife Katie and have two daughters, Whitney (13 years old and heading to 8th grade) and Delaney (11 years old and heading to 6th grade).  We live in Portola Hills and they attend schools in the Saddleback Valley School District.  I taught 8th grade History in Long Beach/ Saddleback Valley for 10 years before coming to Garden Grove as an administrator in 2008 (Assistant Principal at Irvine Intermediate for 3 years and then Principal at Violette Elementary for 6 years before coming to Parkview).  I am very active and love being outdoors running, participating in triathlons and have played ice hockey for most of my life.  I am an avid Kings fan and don't talk about that other team down the street.  My girls both play club soccer which takes up the majority of my time (and money) these days but I love soccer and being on the pitch.   
I am excited to begin a new year with lots of opportunities for learning, exploring and growing for all students.  I look forward to meeting all of our new students/parents and continuing to build the fabulous learning community at Parkview.  Please keep yourself informed by reading our weekly announcements, viewing our Facebook page, reading monthly newsletters, and attending Pastries with Parents, PTA and School Site Council meetings.  I have an "open door" policy and would love to hear any ideas, concerns or comments from all families.  Please visit our school website at parkview.ggusd.us to keep up to date on events, view our wonderful programs and see pictures of our school activities.
Our school staff is dedicated to meeting the needs of all our students.  We believe that a strong relationship between the home and school is vital to the educational success of our students.  We'd like to remind you that daily attendance is very important to student achievement and we expect all students to be at school by 8:10 to be ready to learn by 8:15 a.m.
For the safety of your children, please be patient during pick-up and drop off.  The road into Parkview gets extremely crowded at these times but our wonderful staff does a great job getting cars through quickly.  Thank you in advance for listening to all staff directions and your patience during these busy times. 
I welcome your feedback at our first Pastries with Parents meeting on September 14th at 8:15 a.m. in our MPR.  We will review school safety, state testing results and Parental involvement opportunities for the year.   This is also a great time for me to meet parents and for you to ask me any questions or bring up any concerns you may have.  I look forward to seeing you at our meeting.
Please let us know if you have any questions or need any assistance.  Our school office is open from 7:30 a.m. to 4:00 p.m. daily. 
Sincerely,
Ryan Baker 
Our School
Welcome to Parkview Elementary!
Parkview staff works everyday to unify all 486 students and families for a rich educational experience. We are committed to celebrating our students for their hard work because we believe that encouragement promotes great behavior and diligent study habits! On the last Friday of every month, we gather our scholars to receive their Bulldog of the Month Award, where students are recognized for positive behavior after receiving ten Bulldog Bucks! We also honor student scholars with End of the Trimester Awards, where Bulldogs are awarded for academic excellence and positive behavior. 
The parental support we have received is out of this world! Our PTA plans school events and field trips and supports the school through awesome fundraisers. PTA parents meet on the first Tuesday of every month at 6 p.m.
We are also proud to announce that we have the GRIP (Gang Reduction Intervention Partnership) Program with support from the Orange County District Attorney and the Garden Grove Police Department to promote school safety. Good choices are presented to students, and our at-risk youth are assisted by an adult mentor.
Our Boys & Girls Club is as strong as ever, promoting social interaction one day at a time! We also have Parkview's Anti-Bullying Program, that raises awareness regarding signs of bullying as well as prevention methods. This program promotes anti-bullying assemblies every month for all grade levels to reinforce mutual respect.
I am excited to announce our upcoming events, which will provide fun experiences for our scholars:
On February 9th, sixth graders will take a field trip to their intermediate school! This orientation day will give students a behind-the-scenes look at their new school as they prepare to leave elementary school and transition to intermediate school.
February 14th is the 100th Day of School. Come join us to praise our students for making it more than halfway into the year!
Come support us on February 21st for the Annual Garden Grove Unified School District Spelling Bee.
We look forward to having a wonderful and safe school year with our student scholars.