Principal's Message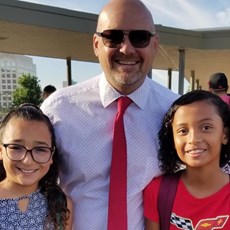 August, 2020
Dear Parkview Families,
It is truly my pleasure to be returning for my 4th year as the principal at Parkview Elementary School.  I am very excited to see all of our students and families, albeit virtually, and watching our kids work hard and grow through new experiences and learning.  I know these are challenging times for families and the return to distance learning is not what anyone wanted for our students.  Parkview teachers have been working tirelessly to put together an instructional program that will allow for all students to be successful and allow for an easy transition back to the classroom when safe.    
Personally, I have been married for 19 years to my wife Katie and have two daughters, Whitney (15 years old and heading to 10th grade) and Delaney (13 years old and heading to 8th grade).  We live in Portola Hills and they attend schools in the Saddleback Valley School District.  I taught 8th grade History in Long Beach/ Saddleback Valley for 10 years before coming to Garden Grove as an administrator in 2008 (Assistant Principal at Irvine Intermediate for 3 years and then Principal at Violette Elementary for 6 years before coming to Parkview).  I am very active and love being outdoors running, participating in triathlons and have played ice hockey for most of my life.  I am an avid Kings fan and don't care much for the local team.  My girls both play club soccer which takes up the majority of my time (and money) these days but I love soccer and being on the pitch.   
I am excited to begin a new year with lots of opportunities for learning, exploring and growing for all students.  When allowed back on campus, I look forward to meeting all of our new students/parents and continuing to build the fabulous learning community at Parkview.  Please keep yourself informed by reading our weekly announcements, viewing our Facebook page, as well as, attending Pastries with Parents, PTA and School Site Council meetings.  I have an "open door" policy and would love to hear any ideas, concerns or comments from all families.  Please visit our school website at parkview.ggusd.us to keep up to date on events, view our wonderful programs and see pictures of our school activities.
We are making class assignments on the basis of present enrollment figures and will make any necessary adjustments shortly after school begins.  We will notify you if there are changes to your child's classroom assignments.
Our school staff is dedicated to meeting the needs of all our students.  We believe that a strong relationship between the home and school is vital to the educational success of our students.  We'd like to remind you that daily attendance is very important to student achievement and we expect all students to be at school (or on-line) by 8:10 to be ready to learn by 8:15 a.m.
For the safety of your children, please be patient during pick-up and drop off.  The road into Parkview gets extremely crowded at these times but our wonderful staff does a great job getting cars through quickly.  Thank you in advance for listening to all staff directions and your patience during these busy times. 
I welcome your feedback at our first Pastries with Parents meeting on September 11th at 8:15 a.m. via Zoom.  We will review distance learning plans, new safety procedures and guidelines for reopening, Parental involvement opportunities and give parents a chance to ask any questions.    
Please let us know if you have any questions or need any assistance.  Our school office is open from 7:30 a.m. to 4:00 p.m. daily. 
For your convenience, please see important calendar dates below.   The full year calendar can be found on our website.
First Day of School:                August 24th 
Pastries w/ Parents:                 September 11th  
Early Release Days:              Every Wednesday at 1:40 p.m.
Back to School Night:             September 17th
Veterans Day:                                     November 11th
Thanksgiving Holiday:           November 23rd- 27th   
Parent Conferences:                December 3rd- 10th
Winter Recess:                        December 21st -January 1st  
Spring Break:                          March 29th- April 2nd  
Open House:                           May 6th
Memorial Day:                        May 31st
I look forward to a great year!
 Ryan Baker